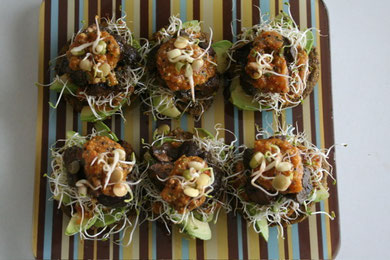 A new year, I just got back to Berlin from a three months raw food chef training and two weeks in San Francisco, where I turned the kitchen of my friend Ronn into a laboratory; and what is the first thing I do in Berlin? Preparing food and putting into practice what I learned at the Tree of Life! Am I obsessed? Or am I just a chef now ;-) I went to check out all organic stores in my neighborhood and on Saturday I ventured to my favourite farmers market at Boxhagener Platz in Friedrichshain. The availability of raw foods (other than fresh produce) is very limited here and you have to read labels very carefully! I miss Rainbow Groceries. It is probably the best health food store out there at the moment. I surely need to explore other sources for getting the foods I need here in Berlin. However, I purchased bags full of nice produce and a bunch of nuts and seeds went crazy yesterday. Breakfast was a sunflower seed vanilla yoghurt with fresh papaya and oranges and 4 course dinner was:
Fennel radicchio salad with walnuts and oranges with lavender infused homemade,fizzy apple-pear-kefir,

savoy cabbage with fresh thyme,
open face sunflower burgers served on radicchio, topped with pesto mushrooms, avocado, sprouts and spicy tomato-apricot chutney
Goats milk chocolate ice-cream with raw chocolate cashew sauce and crushed pecans
...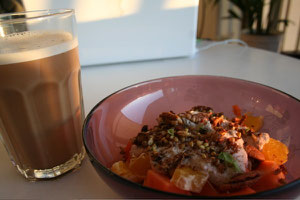 A little worked by the jetlag of 9 hours, I am getting up really early these days, so plenty of time for elaborating on breakfast! I had some sunflower seeds soaked and decided to turn them into a "yoghurt". For that I blended them in my food processor with some water, salt, lemon juice, vanilla powder (the real one! No extracts or "natural" flavors!) and raw agave. You have to blend the yoghurt for a long time to get it really smooth and creamy. Ideally, you want to use a Vitamix blender, but until I can afford one for the ridiculous Europe sales prize of 700€ (compared to about 350-400 US $), I have to stick to my poor 400W food processor.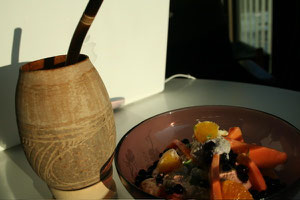 Soaking the seeds is essential! Nuts and seeds should never be eaten raw, because they have enzyme inhibitors, which actually hinder the enzymes in your body to process the nutrients. Nuts and seeds are also full of funghi and mold from storage. Ideally, you don't want to put that into your body ;-) The best is, to put them for 20 minutes into a solution of water with a splash of 3% hydrogen peroxide. Then rinse them and let them soak in plain water for at least 6-8 hours. This will sprout them and make them digestible. There are a few exceptions that don't need to be soaked: macadamia nuts, hazelnuts, pine nuts, hemp seeds, flax, pecan nuts.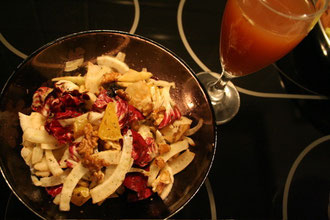 Dinner was more of an effort. I basically prepared all day long in between unpacking, cleaning and rearranging my appartment. The starter was a simple fennel radicchio salad, similar to one I had previously posted. Accompanied by a wonderful lavender infused apple pear based water kefir. Kefir is basically a fermented drink made from sugar water or fruit juice and water kefir grains that do the fermentation.
The second course was the non-raw part of dinner: thyme savoy cabbage steamed in a little water and olive oil, with garlic, onion, fresh thyme, fennel seeds, salt and ground peepper and cashews.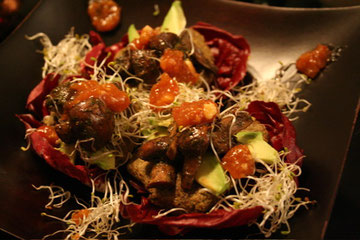 For the sunflower seed burgers, I food processed celery, carrots, fresh thyme, garlic, red onion, some sunflower milk, water, chipotle, salt, turmeric and parsley to a creamy consistency. Then added some sunflower nutpulp, fresh ground golden flax and some whole sunflower seeds until I got a consistency that lets me easily form burger patties. Since I don't have a dehydrator yet, I put them on a baking sheet and stuck them into the oven at just under 50 Celcius for about 5 hours.
The mushrooms, I covered in a simple pesto and put them in with the burgers for the last hour to get them a little soft.
For the chutney, I food processed some dried and soaked apricots, tomatoes, chipotle and sunfire elixir, a super potent, spicy and tasty elixir made from over 100 super food ingredients.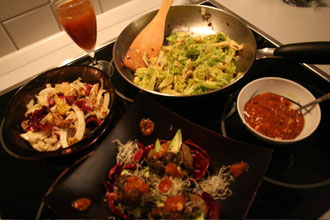 All in all I was very happy with my creations. However, I would probably put some fresh cilantro, sundried tomatoes and onions in the chutney next time and I would also put some zucchini and pumpkin seeds, fresh parsley and maybe a few sundried tomatoes in the burger patties. And I would not dehydrate the pesto anymore. I feel pesto is something that really needs to stay cold and be tossed in last minute.
What a better way to finish this delicious, healthy meal with a little treat: Goatmilk chocolate ice cream sundae (until I finally get my own ice cream maker, I will have to buy the poor processed organic ice creams available here), topped with my own raw chocolate sauce, made from raw cacao powder, cacao nibs, cashew nuts, sunflower milk, mesquite powder, salt and raw agave. Soooo yummy. Raw chocolate is the winner. Watch out for more on raw chocolate soon, I am getting hooked; on chocolate hangovers ;-)