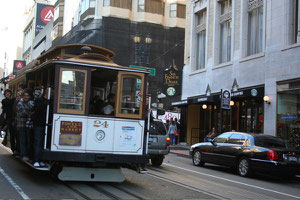 That's it, I am back to "civilization", as a graduated Spiritual Life Food Instructor from The Tree of Life. Throughout the course, I was wondering, how the transition from a fairly isolated spiritual retreat in the high Arizona desert to being back in the city will be. What about all the "temptations": the smell of fresh baked goods from a bakery, the scent of freshly brewed coffee luring you into Starbucks and ubiquitous commercials trying to sell you highly processed foods often even labeled as "health foods". Well, in fact, writing this, I am sitting in a coffee shop, voted one of San Francisco's best organic coffee shops: Coffee to the People, zipping on a handcrafted blend called "Love&Piece", my intentions for 2009 :-) San Francisco offers a smooth transition, voted one of the world's top ten places for vegans and vegetarians. There are plenty of vegetarian restaurants and and even raw foodists are well catered at one of the 5 Café Gratitudes or at Alive! at Lombard Street. Rainbow groceries is one of the best health food stores I have ever visited, carrying an amazing range of highest quality products.
Despite all these wonderfully healthy options, general awareness of true health food choices is obviously still very poor...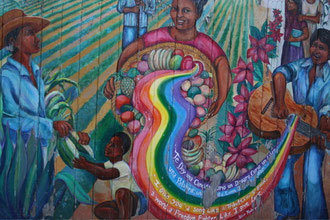 Checking out the Apple Store in downtown yesterday, I followed a lesson on podcasting. The apple guy walked us through a live demo, creating a Health Food podcast (what conincidence ;-). I thought "Great, I get to know about some more great places in San Francisco". But when he started talking about the "freshly, made to order" grilled bacon sandwhich and highly recommending the homemade garlic fries at this "health food" bar, my enthusiasm went down the road.
For sure, maintaining my lifestyle won't be an easy task and explaining to people how I eat, and why I eat that way might trigger that "Oh, what a freak" thought. But that's all good, I think I can handle this :-)
I've been doing surprisingly well on the vegan raw food diet and I don't think I will change back to a meat or dairy based diet. In fact, I do not crave cooked food at all.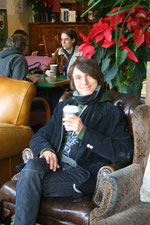 My attitudes and perceptions have definitely changed considerably. First of all, I've become much more sensitive in many ways. I can sense people's moods much more intense than before. I've also become much more balanced regarding my own moods, feeling less anger or having less moments of feeling down or depressed. And if I do, I know better what to do now. This morning for example, I woke up kind of angry and grumpy, since I didn't sleep so well last night. Instead of drinking two cups of coffee to "elevate my mood" (what I thought before), I went to Yoga, and felt so much more balanced and happy afterwards. And instead of having coffee to keep going, I honoured my body, had a little power nap after lunch, and only went for a coffee in the afternoon, after actually feeling refreshed and ready to take a coffee just for the taste and the pleasure, rather than numbing down the signs my body is giving me. Just at the time of going through these experiences myself, my friend Lloyd forwards me the link to the blog of his friend and nutritionist Lindsay and on her latest post, she reports about very similar experiences. Interesting how subtle energies radiat out and connect in the right moments at the right times.
My sensitivity goes as far as feeling irritated, when eating with metal forks or spoons. It sounds really funny, even to me, but it feels much better now, eating from an all natural wooden spoon or using chopsticks. So I went to get myself a nice set of To-Go-Ware utensils, which I can always carry with me, avoiding the use of plasticware while traveling. And here goes another funny energetic coincidence: I met my friend Rachael the other night for dinner at Café Gratitude in Berkeley, and it turned out, her best friend is the founder of the company! I'm on the right path!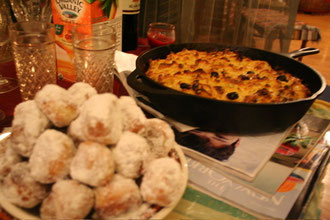 All in all, transitioning has been going extremely well. I've had a couple of drinks, going out with my friends the other night, but it didn't feel great, so I decided to stay away from drinking. I've had one cup of coffee every other day. Compared to 3-4 espressos per day before going raw, this is quite good! And even Gabriel Cousens made the statement that one or two cups of coffee a day are not detrimental!
Dietwise, I have managed very well and kept up with eating almost 100% organic and vegan and 80% raw, with only small exceptions when I was invited for dinners at my friends'. I didn't want to deny trying the traditional Sweet Gougle at a lovely dinner, my friend Yelena prepared the other night in celebration of Hanukkah.
I have gone crazy shopping at my favourite health food store Rainbow Groceries, spending hours scanning their shelfes for an incredible choice of fantastic products. It is a worker-owned cooperative, and the staff is really helpful and knowledgeable about their products. That's how every real health food store should be like.
So I have gone back to experimenting at home, preparing some delicious salads, soups and smoothies, which I should write about in my next blog post. Last night, I had a wonderful coconut-miso-carrot-rainbow-chard soup and this morning, I experimented for the first time with fresh aloe leafes in my smoothie.
I've also had 2 wonderful meals at the Café Gratitude in Berkeley, which I prefer over the one at Harrison for its cozy interior and open fire place. Their smooth, raw chocolate almond ice cream with caramel sauce topping was my highlight of each meal. Eating out at Alive! is next on my list!
But before that, it's time to ring out an amazing, transforming, inspiring 2008, the best year ever; and setting my intentions for an even better 2009:
Love and Piece to all!
Om, Shanti Shanti Shanti, Peace be with YOU!