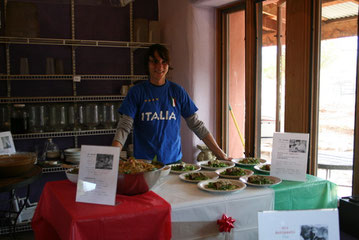 Time at the Tree of Life certainly has passed quickly and things have become busy these past couple of weeks. Kitchen shifts have become more challenging and we apprentices got assigned more responsibilities in anticipation of our upcoming chef days. At Chef Days the apprentices finally get to show their true potential. Each apprentice is assigned a particular day on which he or she is responsible for the entire menu planning, produce ordering, managing the kitchen and the crew. Chef Days are truly events, since everybody gets to be really creative. Each chef day evolved around a particular theme, like Mexican, Breakfast at Tiffany's, Thai, Foods from The Holy Land or The 7 Chakras. Having spent the last six years of my life in Rome, I didn't have to do mental journeys to come up with a good theme for my chef day. So last Thursday, the Tree of Life café opened its doors to serve the community a gourmet 6 course raw Italian lunch at Trawtoria da Boris.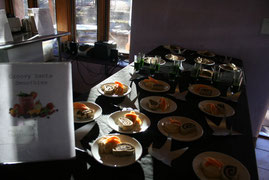 But let's start from the beginning, since on Chef Days, we also have to plan breakfast. I love smoothies, I love coffee houses and I love Christmas time and listening to jazzy Christmas sounds in a cozy environment, munching on cookies. That's the athmosphere, I wanted to create on my chef day, so I turned the Café into a Groovy Santa Smoothies Bar :-)
The solid part of breakfast consisted of Cosmic Poppy Seed Spirals, basically a layer of sprouted buckwheat dough topped with a poppy seed, fig, vanilla, carob layer, which I rolled into a spiral shaped cookie.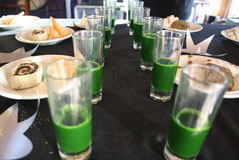 I served it with a yummy Papaya - Lucuma Yoghurt.
As in classical juice bars, I also offered wheatgrass shots. A little tough for me in the morning, but surprisingly, people were happily gulping them down.
The smoothies of course were the highlight of the morning. I put Elliot, one of the Tree of Life Chefs, in charge of the smoothie bar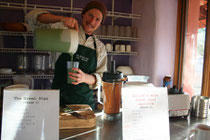 who joggled up three rawsome, rawlisciously groovy smoothies:
The Merry Berry Blast


(blueberries, strawberries, Pumpkin Milk, Coconut Crème, Coconut meat, Coconut Water, Goji Berries)

The Green Star


(Zucchini, Avocado, Green Juice, Spirulina, Lemon, Stevia)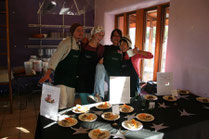 Breakfast worked out great and so did the groovy Santa team.
And my new winter favourite: Elliot's Warm Super Food Smoothie, gave me the needed super charge to lead the next part of the shift:
Il Pranzone (Italian for BIG lunch).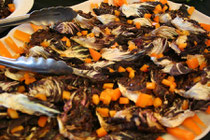 One of the many things I learned during my time in Italy: Italians love food, GOOD food, and they love to eat, and they DO eat! And they love taking their time, eating a variety of courses, sharing and talking with their friends as if they were all a big family.
It's that part of Italian culture that I wanted to transfer to the Tree of Life café, turning it into a family style Trawtoria.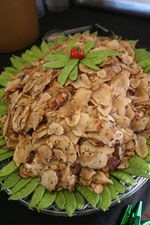 Of course, this meant putting out a lot of food, starting with a variety of Antipasti (Starters):
Miso "Balsamico" Glaced

Radicchio "al Forno"

,


Marinated, herbed

Jerusalem Artichoke Chip

s,


Lavender Coated Sunflower

Caprino

("Goat" Cheese),
and not to be missed on any Italian menu



Spelt

Bruschetta al Pomodoro
These lovely starters were accompanied by a Lavender Infused Grapejuice "Prosecco", which I made from Lavender Infused White Grape Juice and San Pellegrino Sparkling Water.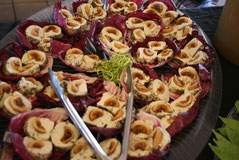 For the radicchio, I blended a thick sauce from azuki bean miso, apple cider vinegar, salt, olive oil and a little Xylothol for sweetness and brushed the radicchio cuts before dehydrating them overnight. Next morning I sprinkled them with a little olive oil and oregano.
The Jerusalem Artichokes were simply marinated overnight in salt, olive oil and a mix of Italian fresh herbs. They make deliciously, crunchy chips.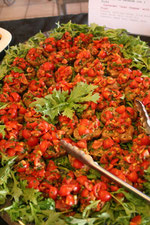 The "Goat" Cheese was made up from sunflower seeds, salt, olive oil, lemon juice and Irigh Moss, which gave it the firm consistency, i.e. a nice, firm roll, that I could then coat with a spice mix from ground lavender, black pepper and lemon zest. Cut into small rounds and topped with a thin fig slice, they just looked like goat cheeses.
Bruschetta in Italy is usually toasted white bread with garlic rubbed into it and topped with a blend of fresh tomato, olive oil and basil. For this raw version, I made a bread from sprouted spelt, walnuts, lemon juice, salt and black olives, which turned out to be incredibly delicious, crispy on the outside and soft on the inside.
The next course was La Zuppa (The soup), which I made from a stock of artichokes. I basically needed only the hearts of the artichokes for a pasta, so I simmered all the artichoke cuts in water for a couple of hours.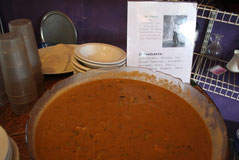 Next morning, I blended the artichoke water with some fresh fennel and strained it through a cheesecloth. Then added olive oil, lemon juice, some sun dried tomatoes and their soak water salt, hing and black pepper, chopped in some fresh majoram and basil, snow peas, sliced some avocado and threw in some thin cut nori strips and dulse flakes. A delicious Artichoke "Seafood" (Nori Algae) Soup that was served with a scoop of creamy, fresh Sunflower "Ricotta".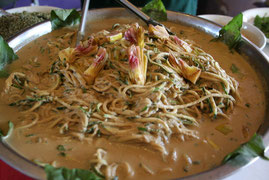 Il Primo (The First Course) in Italy is most of the time Pasta. It can also be a risotto or other grain dish. In my case, i primi were Pasta ai Carciofi con "Bottargha" (Pasta with Artichokes and "Fisheggs") and Canneloni alla Norma.
Spiralized zucchini make a great "pasta", their consistency reminds of nice spaghetti al dente and their delicate taste doesn't interfere with the flavours of the sauce. For the sauce, I blended artichoke hearts (that were marinated overnight in olive oil, salt and lemon), with some of the artichoke stock (for more intense artichoke flavour), some macadamia nuts, hing, black pepper, apple cider vinegar and salt to a creamy and thick consistency which I added to the zucchini with lots of chopped fresh basil. The "fisheggs" were sprouted quinoa tossed in a mix of spirulina, kelp powder, dulse, salt and lemon juice and dehydrated for a couple of hours until crispy.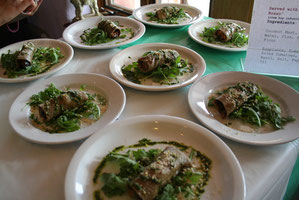 The other Primo was inspired by one of my favourite pasta dishes from Sicily, Pasta alla Norma, which Diana, my first flatmate in Rome, taught me. If you are interested in the real recipe, look up one of my previous blog posts. For this raw version, I marinated diced eggplants overnight in olive oil and salt. Then I blended some fresh tomatoes, sun dried tomatoes and their soak water, salt, black pepper, hing and lemon juice and pulsed in some dehydrated pine nuts and lots of chopped fresh basil. I tossed it into the marinated eggplants that have been dehydrated for a couple of hours to get them nice and soft and then added just enough food processed pine nuts and whole pine nuts to have a nice chunky, but still a little bit saucy eggplant tomato stuffing. I was impressed on how close it got to the "real" taste.
The canneloni wraps were made from sunflower seeds, coconut milk, flax and salt. The rolled canneloni were then served on a bed of arrugula and topped with a nice basil drizzle and sprinkled with some "parmesan" made from crushed pine nuts and dehydrated, crumbled salty coconut chips that were made from young coconut meat, coconut water and salt.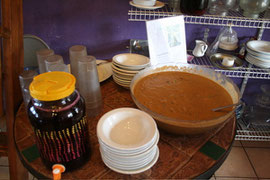 Of course, this rather hearty plate can't go without a glass of nice red, so I served a juicy, yet dry "Lambrusco Rosso", made from a rose hip infusion and black grape juice.
As it is tradition in Italy to eat the salad as a type of cleanser after the pasta, I also had a couple of specialty salads prepared to go with our obligatory, abundant salad bar.  One was a Spinach Pear Pinenut Salad with a Rosehip Fig Vinaigrette, the other a Fennel Orange Walnut Salad.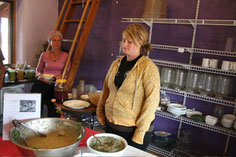 Inspired by street singers and violin players circulating dinner tables in the little streets of ancient Rome, I had Tiffany, one of my wonderful fellow apprentices, sing the Italian Version of the Mormon song Come thou fount of every blessing. Her amazing voice filled my Trawtoria with an energy that has no words to describe and was definitely my personal highlight!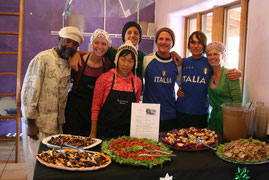 But this was not the end yet. What would be an Italian meal without café e amaro (espresso and desert liquor). Well, caffein and alcohol are not really a staple at the Tree of Life Café, so I needed to get a little creative here. My "café macchiato" was pumpkin milk, blended with maca, carob, 5-spice and mesquite. Wow, the taste is really not that far!!
And instead of Limoncello, a typical Southern Italian desert liquor, I served a lemon sorbet, made from Young Coconut, Lemon and Lecithin, which put a nice sweet ending to this marathon lunch.
Trawtoria da Boris closed doors that day with a smiling chef. It was a big success. People were more than satisfied and one of the biggest compliments was when Kosan, a vegetarian chef with 30 years+ experience, told me "For a few moments, I really felt, I was transported through space and time, right into the South of Italy".
Grazie! Viva l'Italia!