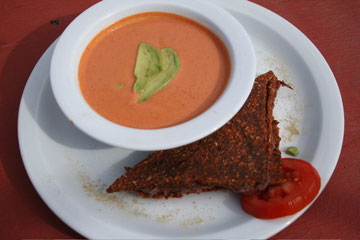 Yesterday's entrée deserves a blog post by its own self: We had 'grilled cheeze sandwhiches'. Traditionally a very simple dish that I wouldn't even touch, but in it's raw version, it was oh so delicious. The textures were amazing, the bread was crunchy outside, still warm from the dehydrator and the creamy cheeze inside really gave the impression of a melted cheese. Altogether with the tomato soup, this was a wonderful combination. Of course, reading up this article about Jay Rayner eating at Ferran Adrià's world's most famous restaurant El Bulli still makes me go there one day and try his marvellous creations that seem to be inspired from a higher conscious in outer space. But until I get a chance to be chosen amongst the 2 million applicants that try to get into his restaurant every year, let's have a look how to make yourself a yummy nutritious raw 'grilled cheeze' sandwhich.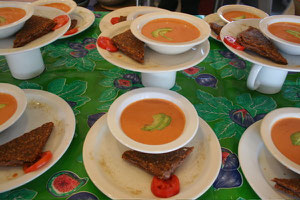 The bread is made from a base of 2 parts of any nut flour mixed with some sunflower seeds (food processed to small granular) and 1 part of a sun dried tomato and bell pepper mixture that has been blended to a cream in a blender. Some of the sun dried tomato soak water should be used to make this cream. Then you can add cumin, fennel seed, salt and/or other spices of choice. Mix everything and add some water to first get a rather thin consistency. Then slowly add some ground flax seed until you have a moist thick bread dough that you can spread on a dehydrator teflex sheet about 1/2 finger thick. Use a dull knife to cut into triangles, just the size of a regular white bread triangle. Dehydrate the triangles at 115F for about 6 hours or until you can flip them over on a dehydrator tray and then dehydrate them overnight.
The Cheeze:
The cheese needs to be prepared the night before as well. Blend up walnuts, lemon juice and just enough water to make it blend in a Vitamix but still have a thick cream. Once blended well, add some probiotic powder and blend just a little more. Transfer the cream into a cheese cloth and hang it overnight at a warm spot to let ferment and let the excess water drip out.
Next morning, flavour the cream with azuki bean miso, hing (you can also use garlic and/or onion powder instead), salt and turmeric (gives it a nice yellow 'cheesy' colour).
Now you can make sandwhiches out of the dehydrated triangles and the cheeze and dehydrate them for another couple of hours until nicely warm and crunchy on the outside.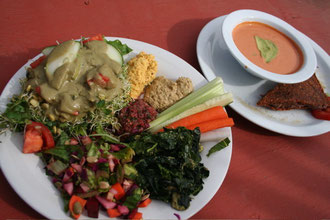 The soup on the other hand is very simple. You just need to blend up the following ingredients in a Vitamix until smooth:
3 cups hemp seed milk
12 tomatoes
1 red bell pepper
3/4 cups of sun dried tomatoes (and some of the soak water)

a splash of lemon juice
1/3 cup olive oil
1 tsp salt
1 tsp or more coarsly ground white or black pepper
To make a hemp seed milk is really simple. Just blend 1 cup of hulled hemp seeds with 4 cups of water until smooth and creamy, no need to strain.
Voilà, it's neither Ferran Adrià, nor upscale fancy gourmet food, but it's a scrumptious raw food meal and a wonderfully healthy way of indulging into an 'ordinary' grilled cheese sandwhich. Bon appétit.