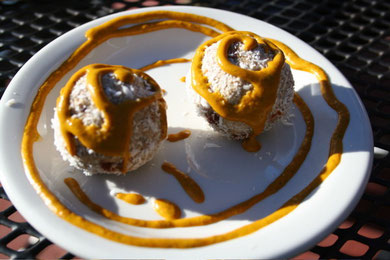 Breakfasts at the Tree of Life are always amazing me. My raw breakfasts at home were usually a fresh fruit salad with nuts and seeds or a smoothie with pretty much the same ingredients plus some green algae or other superfood powder. I was not aware of what is possible to come up with using raw foods, like these delicious superfood power balls with a heavenly creamy goji berry sauce. And it doesn't end here, we even raw had muffins, bagels and crèpes...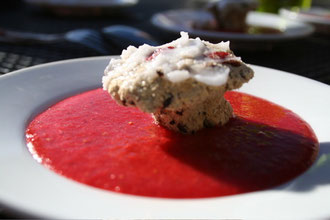 One of the superfoods used in these balls is maca, a powder that comes from the Maca Root, a very potent super food. It is very nutritious, rich in proteins and acts as an adaptogenic, bringing you back to a balanced state from whichever extreme state you are in at the moment. For example, if you are extremely tired in the morning, it might help to lift you up and give you a little enery boost. On the other hand, it can also ground you and relax you, if you are nervous or stressed in the evening.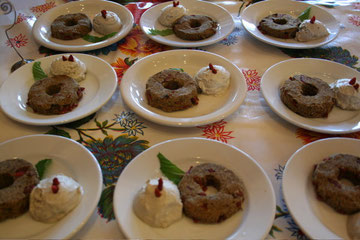 Besides the maca powder, the power balls were loaded with other potent ingredients like goji berries, carob, mesquite, buckwheat, hemp seed, coconut flakes, coconut crème, poppy seeds, dried apricots and liquorice. The topping was made from coconut, goji berries, salt and fresh mint. These ingredients make also a wonderful base for a smoothie. Goji Berries is another superfood, which play an important role in traditional Chinese medicine. They are very rich in antioxidants and are a great boost for the immune system and good for the liver.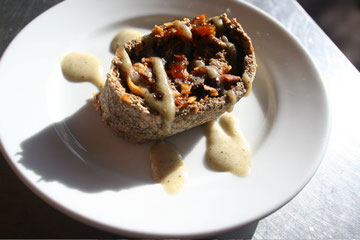 But as mentioned in the beginning, the opportunities of raw food breakfasts are endless. We had goji berry muffins and goji berry bagels. The base for a fluffy muffin paste would be made from and nut pulp that is left from making nut or seed milks mixed with coconut flour. Nut pulps are the base of many pastries and doughs in raw food preparation and at the same time it is a good way of using the pulp that is left over from making milks.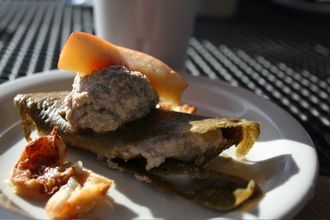 A nut or seed milk is very easy to make, just blend up soaked nuts or seeds with water (ratio 1:4) and strain the liquid with a special nutmilk bag or cheese cloth. The pulp that remains in the cloth it the nut pulp. The milk can be sweetened and flavoured afterwards with fresh or dried fruit that has een soaked, cacao, mesquite, lucuma, vanilla, stevia and other ingredients.
The dough of these crèpes here are actually not made with nut pulp but using avocado as a base. Avocado blended with some fresh fruit, salt and dried fruit soak water makes a great crèpes dough, which you can srea out flat on a degydrator sheet and dehydrate for just as long as it is still flexible and not crusty yet.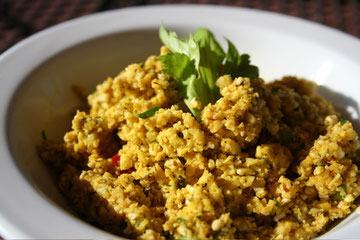 But not only sweet breakfasts are possible, even savoury dishes inspired from traditional cooking can find their raw counterparts, like this take on scrambled eggs. The base is food processed cauliflower, mixed with some parsley, bell pepper and spiced with turmeric, some curry, salt and a bit of vinegar and lemon, it really has this little egg-like taste.
I could go on and will do so in a soon to follow part 2 of breakfast foods from the Tree of Life. By the way, tomorrow is Raw Granola Day, yumm!