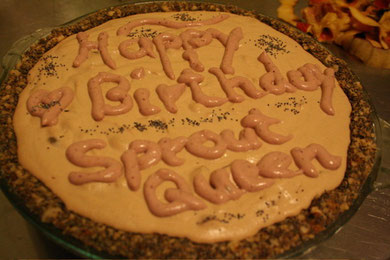 Savrah is the Sprout House gardener and manager of the Tree of Life. This Tuesday was her birthday and I thought this was the perfect opportunity for me to get hands on preparing my first raw food pie. At the Tree of Life, I've just discovered a new spice that I have not really known or used before: Mesquite. It is a beautiful sweetener that doesn't effect insulin and blood sugar levels and has a very distinct, almost lemony taste. So I decided to use it as the base spice and sweetener for my pie and came up with a combination of fresh peaches and grapes, walnuts and poppy seeds that ultimately turned into a really yummy pie...
Traditionally, a pie has a crust, some creamy filling and some icing on top. And that's just about what a raw pie is, just not baked in an oven. The crust sometimes is dehydrated, but not necessarily. Here is what I did for my crust:
brazil nuts (coarsly crushed in a food processor)
poppy seeds
soaked dried apricots (blended to a cream in food processor)
mesquite powder
pinch of salt
splash of lemon juice
some apricot soak water
I put all ingredients in a bowl and mixed them, then added some nut flour (any nut flour is good here) to get the right consistency. After pressing the dough into a pie tin, I put it into a dehydrator at 145F for a couple of hours. If I had had more time, I would have let it dehydrate longer at 115F, to get a nice crust, maybe another 4 hours.
Dehydrators are a very useful tool in raw food cuisine. They basically work like an oven, but they only heat up to much lower temperatures. Ususally, you would not place food for a long time into a dehydrator on more than 115F (about 46 Celsius), which keeps the enzymes and nutrients intact. However, it is ok to have an initial 2 hours of 145F to cut down overall dehydration time and also kill some bacteria, which could otherwise effect the food if you left it in the dehydrator for a very long time.
The Filling:
For the filling I used the following ingredients:
3 peaches (peeled and cut into slices)
about 1 cup of soaked and rinsed walnuts
about 1/3 cup coconut crème
mesquite podwer (about 1-2 TBSP... to taste)
Vanilla Glycerin (about 1 TBSP)
Rose Hydrosol Water (about 2 tsp)
little bit of lemon juice
pinch of salt
I blended all these ingredients in a Vitamix blender, just adding a little bit of water to get the right creamy consistency. It will be rather liquidy at first, because the coconut crème will thicken and harden it afterwards in the fridge.
After finetuning the taste, I added about 1 cup of red grapes, cut into quarters. I wanted to leave them whole, to have some fresh fruit chunks in there. These crunchy and moist grape chunks complement well the creamyness of the filling and the nuttyness of the crust.
The Icing:
For the icing, I just needed a creamy paste that I could use in a squeezer bottle to write Happy Birthday on top of the pie. So I blended about 5 fresh black figs with a handful of walnuts, a litte coconut crème, some lemon juice, mesquite powder and a bit of water to get the right consistency, i.e. creamy enough to solidify, but not too much, so it's easy to squeeze some letters with the bottle.
I put the whole thing into the freezer to solidify quicker, but a few hours in the fridge will do the just the same.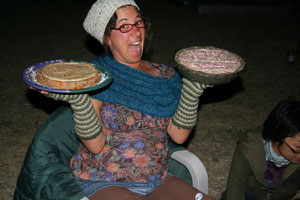 The Result:
I was very pleased, and so was obviously the celebrity of the night. All the flavours and textures complemented each other well. The crust was a little too thick for my taste and I would make it thinner next time.
But overall, it was a very yummy pie and for my first raw pie experiment, I am really happy and I'd make the same or similar recipe again.