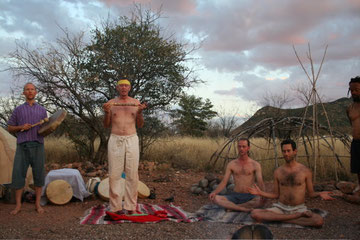 I once more have to postpone writing about food, because I need to report on a unique event that took place here at the Tree of Life two nights ago: Inipi. The Inipi ceremony is a sweatlodge, which takes place every new moon. It is an ancient, sacred purification ceremony, which has been passed down for generations by the Lakota people...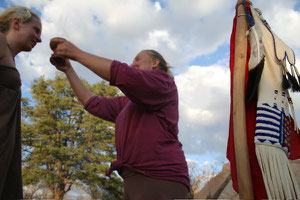 Gabriel Cousens, the founder of the Tree of Life, is an acknowledged chief of the Lakota tribe. Therefore, the ceremony follows the ancient rules of the Lakota people. First everybody's entire body was "smoked" using a wooden cauldron with some smoking ashes. Afterwards, every participant was honoring the 7 sacred directions (West, North, East, South, Center of the Earth, Heaven, Heart) holding up some tobacco in their closed hands. Then, Gabriel's student Keith loaded and honoured the pipe, which was gifted to Gabriel from the Lakota Tribe.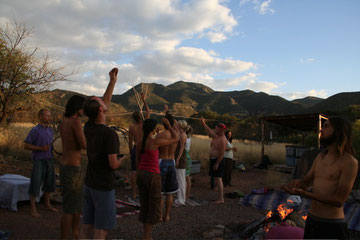 All the honourings, and ceremonial announcements were made in the native Lakota language and then translated, which was really amazing. After the initial ceremony, we all crawled into the tent and went through four rounds of intense sweating, singing and meditating. Each round started with the "firekeepers" bringing in hot, glooming stones that had been heated up throughout the day in the fire fed by mesquite tree logs. The stones are placed in the middle of the tent. After all the stones of one round are inside, the door is closed and the Inipi leader pours water over the stones to heat up the tent.
It is pitch dark inside and very crowded, since you sit shoulder to shoulder with your neighbour. But the slight level of discomfort from sitting in a tiny space in the dark and sweating is taken away by the singing, chanting, drumming and hugging each other during the entire ceremony. The ceremony finishes with the 4th round, where everybody takes a few puffs of the pipe according to the Lakota tradition.
Overall, it was an amazing, unique, very spiritual and ritual experience. It is supposed to purify your body. I certainly felt extremely light-headed and very relaxed after the ceremony and had a deep profound sleep that night. It is hard to explain in words, you have to experience an Inipi for yourself to get a full understanding of it. I would recommend anyone, who has the chance to try it out. I am not a person, who suffers from claustrophobia or has issues with close personal contact, but I think it can be a very powerful instrument in helping people healing from such issues.