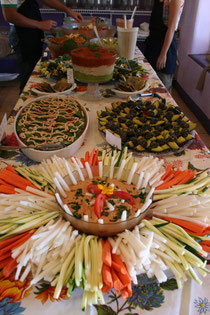 I had planned to write about raw breakfast foods in this next blog post, instead I will write a little more about my personal development, since there has been a lot going on these past days. Cause and effect are not quite clear to me yet. Basically, I go through immense swings in mood and general well - being. After having taken a Vitamin B12 shot last week, I felt really good that afternoon. Then I had a complete breakdown again last Tuesday feeling deeply tired all day. Wednesday ant Thursday were fine again, and after starting to take the Max Stress B complex that I mentioned in my last blog post, I was feeling great last Friday. But then again, I went through 3 days of extremely low energy, feeling spacy, headachy, and deep tiredness. I was not able to concentrate on anything, even blogging was out of question.
This does not quite match with other peoples reports on feeling much more energetic and more alert and clear in their minds after switching to a raw food diet. However, it might be some sort of detoxing of the body. The people from the Tree of Life here say, it usually occurs during the 2nd and/or 3rd week after switching to 100% raw...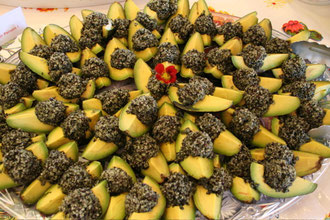 It might also be a combination of various things, including my body consitution and type. I was talking to Shanti the other morning after the yoga class. Shanti is Gabriel Cousen's wife and teaches most of the yoga classes in the morning. After explaining to her some of my problems. i.e. feeling spacy during the day and having a lot of muscular tension in the facial area and that these feelings often strongly amplify after yoga practice, she looked at me for a second and told me to read the chapter on Vata constitution in Gabriel Cousen's book Conscious Eating. Vata is one of three constitutional body types Kapha, Pita and Vata, according to traditional ayurvedic medicine. Reading the general description of symptoms and attributes of a vata type person was like looking into a mirror. It was a 100% fit: Having big energy and mood swings, tendence to overexhaust during high energy peaks and then falling into an energetic down, frequent problems of insomnia, very thin general body constitution and assuming weight only around the waist line, etc. etc.
Vata people are very airy and should live on a regular schedule and eat more oily and warm things to be more grounded and balance more with the earth element. Apparently, for vatas it is most difficult to live on a 100% raw diet. So I have to also find my balance in the foods I eat and life style I live.
Another aspect that plays a big role in the combination of your food is determined by if you are a fast or a slow oxidizer. Fast oxidizers need a lot more protein in each meal than slow oxidizers and they need to eat regularly several times a day. The questionnaire is a little difficult to answer though, so I might look into getting it tested by one of their therapists.
I was also talking to Dr. Dan yesterday during my work at the Sprout House, where they grow all the sprouts that are served in the cafeteria. Dr. Dan is the physician of the Tree of Life. According to him, feeling tired in the mornings (having also black eyerings) and spacy throughout the day, and having problems sleeping after exercising could all be indicators of weak adrenal glands and also that my body might actually be too alkaline. His suggestions for weak adrenals are first of all sleep! The best sleep being between 10pm and 3am in the morning. Other things are schizandra berries, all sea weeds, medicinal mushrooms, protein in the mornings (spirulina, chlorella), B vitamins or glandular formulas, which are animal products though.
To get my body more acidic, he suggested to eat nuts and seeds, which are acid forming, vinegar, and stay away from alkaline fruit like figs, dates, etc. I will also do some PH urine testing over the next 2 weeks to find out my body PH level.
This is a lot of information to take in and there are so many factors and conditions that can have an influence and effect on my body and mind. I am a little confused at this point. It feels like walking in a labyrinth, trying to find your way to the center and back out again. It is surely still a long path, but I feel I am on the right one and I will learn to listen to my body telling me what is best.