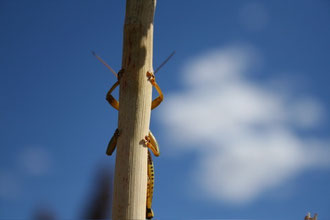 10 days have passed at the Tree of Life, eating a strictly raw vegan diet, no coffee, no alcohol, no drugs; time to reflect a moment on the effects on my body and mind so far.
First of all, it has been an amazing ten days loaded with useful information, experiences, fun and surrounded by wonderful people full of good energy and stories. Regarding the food, I seem to assimilate and adapt fairly well. So far, I felt no major digestion problems or detoxification symptoms yet, however, there are some remarkable things that I want to go through one by one, my extreme craving for coffee during the first days being first on the list...
Coffee: If you read previous articles, like the one on my little coffee tour in Rome, you noticed that I adore coffee; mainly for its taste, but it certainly also gives me the right boost in the morning. Having generally a rather low blood pressure combined with a jetlag from my flight, this was a major issue during the first few days. I would get up in the mornings with this big craving for coffee and this craving would subtly come up again after lunch or during the afternoons. However, after a few days, I kind of forgot about it and I am at a stage now, where I feel just the same without coffee and and also the intense cravings have disappeared. As with any craving or slight physical or psychological food addiction, if you deprive your body for an amount of time from the particular food, your body "forgets" and does not want or crave this very food anymore. I experienced the same with sugar years ago.
General wellbeing: Overall, I am feeling very balanced and relaxed since I am here. However, I have been very tired, which was probably due to adjusting to the climate and environment and jetlag. But also, I am always a little dizzy and spaced out. This might be a Vitamin B deficiency, as my homeopath had already pointed out before. So I went to have a Vitamin B12 shot the other day and that afternoon I felt much better already. However, the next day I had another day of extreme tiredness. The past two days, it is better again, but it could still improve, so I am probably going to get Max-Stress B, a highest quality Vitamin B complex that they recommend here.
Digestion: Pretty much since I started the Rainbow Green Life Food Cuisine Diet, my bowel movements have been incredibly good and regular, some days up to 3 or 4 times; sometimes a little liquidy, but never associated with any bad side effects, except once a stomach ache that lasted for about an hour. So my digestive system seams to cope very well with the diet here, which probably comes from the fact that I have always included plenty of salad and fresh vegetables, fresh fruit as well as nuts, seeds and vegetable oils into my diet. These food groups form the foundation of the Rainbow Green Life Food Diet.
Teeth: Normally, over the course of a day, my teeth would always build up a thin, scrubby layer, which you can feel when touching your teeth with your tongue. Eating only raw food, my teeth feel completely clean, as if freshly brushed, for the entire day. I find this quite remarkable. It seems that the raw foods don't leave any bad mouth and tooth affecting agents. Looking at the way they treat their foods here, this makes completely sense. All vegetables are washed in a solution with Hydrogen Peroxide. Nuts and seeds are soaked first in the same solution, in order to wash out all funghi and enzyme enhibitors. And you should see the foam and slime that is coming off walnuts after soaking them. You would never eat a walnut just out of a bag again!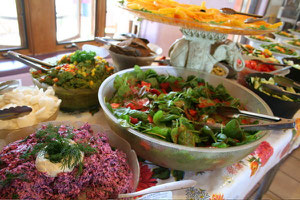 Choosing the right food: With the abundance and variety of food served here at the Tree of Life, it can be hard to make the right choices and I still have to find my own balance. It is actually very easy to overeat, since the all the foods are very nutrient dense. Especially all the nut and seed patés, nut breads and creamy dressings add are very calorie dense due to the high fat and protein content of this food group. I often still tend to overeat and feel rather sloggy after eating, especially, when I eat too much for dinner. Everybody here reports a very gradual shift over time to more greens and away from the heavy nutty and creamy dishes.
Other cravings: I don't really have strong cravings for anything particular and I also do not miss cooked food or other things that were part of my diet before getting here. The only thing I truly miss is fresh fruit and I also feel that I don't get enough carbohydrates. Fruit is used rather sparingly here, because of its rather high glycemic index. Also carbohydrates are not used too often, since there are only a few recommended grains like quinoa, buckwheat, millet and spelt, and they are not part of the Phase I diet. So most of the breads or crackers are made from nut and seed pulps. But yesterday was raw pizza day with a crust made from buckwheat and I had a very comforting feeling after lunch, which made me realize that I missed out on carbohydrates from grains.
So I guess, even though I am not eating any processed sugar and do not like too sweet things, I am still rather on the sweet side in general, meaning carbohydrates from fruit and grains. I already feel, though, that I want less fruit than before. I am curious on how this will develop over the next weeks.