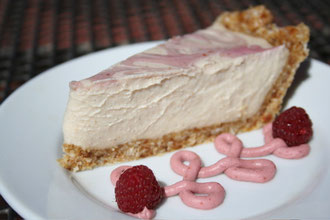 Weekends is brunch time at the Tree of Life. And this means DESERT! When Gisela, the desert queen from Germany, whirls her magic wand in the kitchen, some amazing deserts appear on the tray, like this blissful Coconut Cream Pie with raspberry swirls. Now for those, who thought that raw foodists only munch on salad and spirulina, here's the counter proof. Raw food deserts are delicious. The trick is all about using the right ingredients...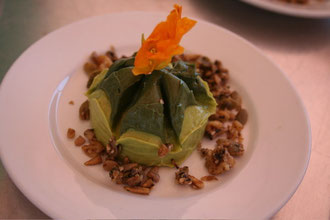 At the Tree of Life, all foods get classified into Phase I or Phase II foods. Which phase a food falls into, is based on its glycemic index. Phase I contains only low glycemic foods that do not affect blood sugar levels at all, and thus are suitable for diabetic people. Examples of Phase I foods are all leafy greens, avocado, most cold pressed oils, most seeds and nuts, low glycemic fruity vegetables like cucumber, tomatoes or peppers and herbal teas. Phase II still basically contains low glycemic foods, but their index is a little higher than Phase I foods, for example carrots, beet, starchy vegetables, low glycemic fruit like pear and plums. High glycemic fruit are to be used very sparingly, like bananas, figs, grapes, papaya, mango, etc.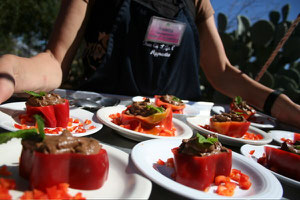 Now it's obviously much easier to create a Phase II desert and there are plenty of recipes. The challenge comes with creating a Phase I desert. However, it is possible. Saturdays Phase I desert was very interesting: An Avocado Cacao Mousse (cacao is Phase I but only for non-diabetes patients), flavoured with a bit of lemon juice and sweetened with stevia. Stevia (from the Stevia leaf) is a natural, unprocessed sweetener that is up to 30 times sweeter than sugar. Stevia has 0 effect on blood sugar levels and 0 calories! So this mousse alone can make a wonderful desert already. If you don't care about Phase I or Phase II, coconut goes very well with avocados and you could make this cream even better adding coconut cream. And in the summer, you could add fine crushed ice and make this a delicious raw avocado ice cream!