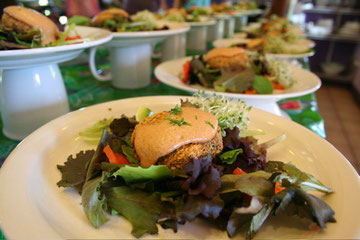 It's been a busy week so far laden with information: introduction to the center and the grounds, kitchen tours, kitchen training classes and theory lessons. And finally, today, my first day in the kitchen. Morning shift! Getting up at 5:30! Unimaginable for me under normal circumstances, but surprisingly I was up and full of energy. It was a fantastic first day and we got to prepare and arrange some wonderful dishes, like these exotic cajun coconut croquets.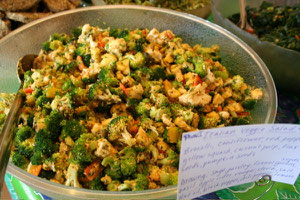 The kitchen team was fantastic. Kitchen Chef Kosan, an old school New Orleans vibed Southerner, had the lead. He has been a vegetarian and vegan chef for more than 20 years, working in high end restaurants like Alice Water's Chez Panisse in San Francisco. Kosan did an amazing job in guiding us on our first day in the kitchen. Knowing that I lived in Italy for 6 years and that I am a passionate cook myself, he immediately put me down for the Italian dressing for the Squash Broccoli salad and let me do my own thing. It was a great feeling to have responsibility for an entire salad on my first day.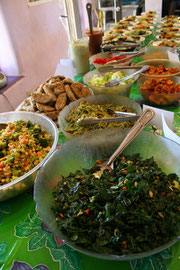 The menu didn't finish here. A Kale Avocado Salad was on the menu, as well as some "Spaghetti al Pesto Genovese". Yes, Kale can be eaten raw, you read correctly, and it's even delicious. The trick is, fresh organic Kale! Free it from the stems and massage it for a few minutes with salt and a little olive oil, which will make it tender. Then add all the rest of the ingredients, like avocado, bell pepper, etc. and season with lemon juice, oil, salt pepper or other seasonings you like.
And Spaghetti? They were actually spiralized daikon radish. A spiralizer is a tool that can cut vegetables to get a spaghetti like shape. It's a great tool. And together with a nice basil pesto and some sun dried tomatoes, this is just as good if not better than a cooked white flour pasta.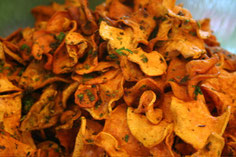 But it doesn't stop here. We even had potato chips! Yes, RAW potato chips! Sweet potatoes put in the dehydrator at about 145 Fahrenheit for some time until they are nice and crunchy, seasoned with some salt, lemon, apple cider vinegar, parsley and chilli. Uber healthy chips, unfried, no added fat, no transfats, no acrylamide. Acrylamide is the toxin, which gets produced, when frying or baking things at high temperatures or barbequeing over a flame or charcoals.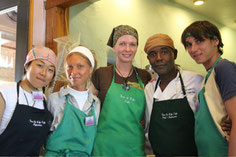 To sum it up: It was a great day, we learnt a lot, from Kosan as well as from each other. And we had a very nice vibe going on in our team as you can see on the photo of the happy kitchen crew. After my shift, I had a dip in the pool and watched the sunset in the hot tap, both just a few steps away from our dorm rooms. AHO (Indian for saying 'yes I agree' or 'I am with you') to this perfect day!