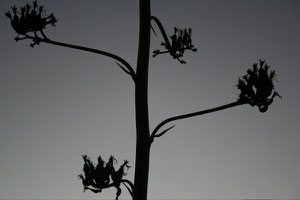 Already the trip to the Tree of Life was an adventure. My flight from San Francisco to Phoenix went smooth, whereas my connecting flight to Tucson was delayed. Instead of mouning about it, I made use of my time and met health food Chef Rachel Albert-Matesz, who was on their way to a conference for a speech on low sugar-content desserts. She has a nice web site, wrote books and also has a blog that might be worth checking out.
Arriving in Tucson, I hopped on an Arizona Stage Coach taxi service. The driver was listening to some Podcast from some professor, who judging by his voice, had a considerable age. He was talking about how the United States made China a communist country and other conspiracies, finishing his episode with the sentence: "And remember to always stay armed!!". And I thought I was going to a peaceful environment, where everybody is in harmony with nature...?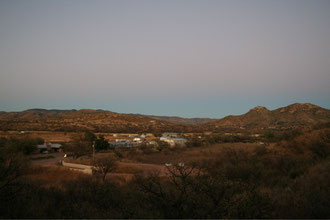 An hour and some cospiracies later, I finally arrived at the Tree of Life! I was welcomed by lovely Krystall, who gave me such a warm and loving smile full of energy and checked me in. And she was not a single case! Everybody, who I meet here is simply glooming! The people are happy and full of energy, it's amazing.
The first night was still a bit strange though and demanded some adjustment. I was tired and jetlagged, it was extremely cold in the high desert and the café, where dinner was served does surprisingly not have heating or inside seating. So eating cold, raw food on an outside patio felt a little unwelcoming at first.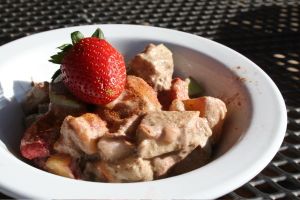 However, next morning's breakfast changed everything. I've blissfully enjoyed every single meal from then on. It's simply amazing. Like this beautiful fruit salad in a cream of sunflower seeds, which they spiced with nutmeg, cinnamon and other spices.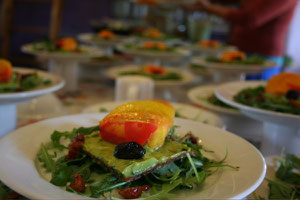 At lunch it only got better. Their entrees are always beautifully plated and lined up on the first half of a large rectangular table, like these avocado open sandwhiches with heirloom tomatoes and avocado on a raw seed cracker on a bed of arrugula. Then there is always an abundance of various salad greens, sprouts from their own sprout garden, and other salad vegetables like cucumbers, tomatoes, celery, daikon, etc. that you can top with fresh ground flax seed, all sorts of homemade dressings and sometimes other little salad goodies, like crunchy seed and carrot granola, dehydrated crunchy seaweed and tomatoes and others.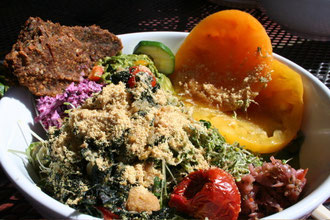 The first night, I couldn't quite believe to ever be able to stay on this diet, but after this beautiful lunch salad here, it already seemed much more likely. Any other effects yet? I have certainly been extremely tired these past days, but this was probably still jetlag. Yesterday was already much better. I am always a little dizzy and spacy have problems concentrating, which is probably a Vitamin B12 deficiency, so I am going to get a shot or supplement early next week. Vitamin B12 is the most tricky to get out of plant products since it mainly resides in bacteria of animal products. Generally though, it's definitely too early to talk about any effects of the changed diet yet.