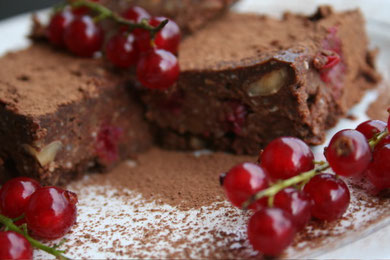 Time has come: I am leaving Berlin tomorrow to jet to San Francisco and from there on to Arizona, when I will start the raw food course at the Tree of Life Rejuvenation Center on Sunday.
I haven't gone 100% raw due to many social commitments and also due to my personal problem with throwing away food. So I was trying to use up everything, which would otherwise go bad in the shelf. And not everything in there qualified for Gabriel Cousens list in his book The Rainbow Green Life Food Cuisine. However, I've done a pretty good job of always having raw fruit for breakfast and eating one large salad a day. And I cut out meat entirely, except for one last dinner this week, when my friend Cornell, who came over at the other night's dinner, prepared for me the most delicous goose breast confit. It was melting away in my mouth, but I certainly felt the effects on my body the next day, having not eaten meat for a while now.
It was another beautiful dinner in my little loft, also the last one for the next 3 months. Guest star was Frenchie Berlin newcomer Frédéric, in his role as authentic food critic for the entirely French menu, inspired by one of Cornell's favourite book My Life in France from Julia Child.
My contribution to dinner was only dessert this time. And since I was still totally in red currant mood from my delicous dressing, I thought they would combine well with some dark bitter chocolate and almonds and hazelnuts in a gooey brownie.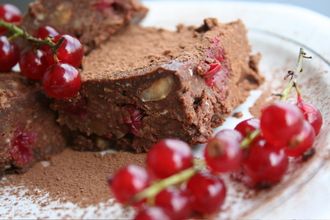 I had planned to make them entirely vegan, so I searched the web for some vegan brownie recipe and found this one on allrecipes, which I used as a base. I switched some ingredients for others, added my own ideas and came up with a bit of a different list:
1 1/2 cup flower (I used barley and oat flakes that I ground up very finely in a food processor, but I think spelt flower would go well here as well)
1-2 tsp baking powder
3/4 cups of cocoa powder
1 tsp salt
1 pinch of chilli powder
1 pinch of black pepper
1/2 cup - 1 cup of agave sirup (depending how sweet you like them)
1 cup of cranberry juice (preferrably unsweetened), but here, I would also try soy milk or apple sauce or also just water
3/4 - 1 cups vegetable oil (I used butter in mine, since I had no vegetable oil left)
1/2 cup of bitter dark chocolate cut into chunky chocolate chips
1/2 cups of crushed toastes hazelnuts / almonds (also walnuts would be perfect here)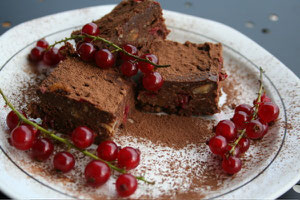 Preparation and baking is pretty much the same as in the linked recipe at allrecipes.com. As finishing, I prepared a little frosting from fig flower sirup with cocoa powder and butter that I spread on top, then powdered them with some more cocoa. A delicious flavour combination of the soury, juicy currants with the semi-sweet chocolate, I really enjoyed them. They weren't too sweet, very moist and had the right 'gooeyness'. However, to get the fluffyness that I generally like, I would personally still put one or two eggs into the batter, the egg whites beaten and stirred in at the last. I think this would make them a little more airy and fluffy. However, then they wouldn't be vegan anymore ;-)
Ok, I am off, the next brownies will be raw!!