Red currants in salad? How would that go? Well, we have already heard of raspberry vinaigrettes or fig balsamic vinegar, so why not work something out with red currants?
And seriously, I don't want to pile it on here, but it was the best salad, I have ever created!
Reading Gabriel Cousins book The Rainbow Green Life Food Cuisine yesterday morning and scanning the recipes, I was inspired by a cucumber salad with a spicy mint dressing. And then the red currants popped into my mind, and the cashew nuts and sunflower seeds and ginger and lime and...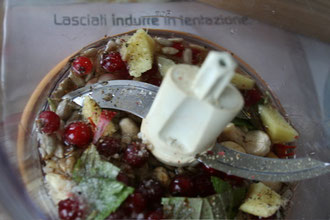 Below is the full list of spices for the Red Current Dressing that were all spinning in my head. I put them all in a food processor to get my head clean again and let them spin there a little longer...
4 strings of red currants
Cashew Nuts (handful)
Sunflower Seeds (handful)
Fennel Seeds (a dash)
Fresh Ginger (about 1 inch, a little less maybe)
tiny piece of garlic (or to taste)
tiny piece of red hot chilli pepper
1/2 tsp honey
2 tsp power greens powder
sea salt
shoyu
1 lime wedge squeezed (or based on taste)
vegetable oil (flax or sunflower)
water to make it smooth
Initially, I had in mind to include some wasabi powder, but forgot about it over all the spinning. I'll try next time.
Red currants have been experimented with in some other dressing recipes, but they mainly used red currant jelly. Another one that uses fresh ones in a very simple recipe, I found on this blog post, but I think the combination of the slightly bitter currants with the sweet cashews and sunflower seeds is quite special and would make it also an extremely nice dip, depending on the consistency you choose by adding more or less water.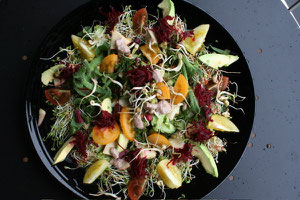 For the salad base, I came up with a few more things than just cucmber. I am sure, only cucmber would go just fine, but the rest in my opinion added even more to it in terms of texture and favours. However, cucmber and the sprouts were the main volume ingredients:
1 small Cucumber (about 20cm length)
water cress sprouts
sprout mix
yellow, orange and purple plum cherry tomatoes
red beet (finely grated)
red beet leaves cut in stripts and stems cut in little pieces
Eiskraut
1/4 Avocado
1/4 Apple
Fennel Greens (the stuff on the top of the fennel)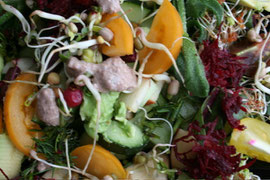 The result was a scrumptious, delicous blend, crunchy and brimming with moisture. And again, the colour combination was fantastic. The pink of the sauce complements the green of the cucumbers so nicely. I actually added some super greens powder to the dressing, which greyed out the colour a little. It you want to go for the intense pink, just leave it out.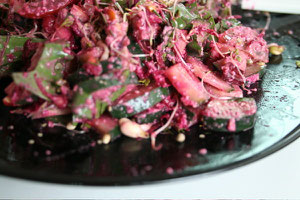 But then mixing the dressing well with the salad brought out the full rich pink colour of the dressing. I enjoyed every single bite so much I even licked the plate like a kitten not to waste a single drop of the dressing.