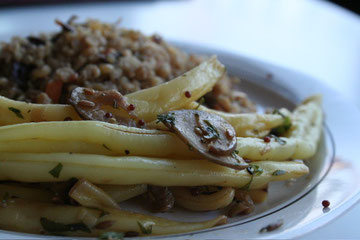 Thursday night I had my 3rd intimate little dinner party. And again, the appetizer was the winner of this evenings meal: Spicy White String Beans with Topinambur and Carrot Greens and Lemon-Quince-Wasabi Quinoa with red lentils and radicchio.
The guest menu was equally spicy: There were cuties Mark, who is a trained chef (he knows his business unlike me;-) and his "Schnecke" Sven, who were so lovely to let me stay at their XBerg appartment this summer, while I was looking for the perfect living kitchen to host my dinners. Then there was art gallerist Michael Rade, hosting up and coming artists to exhibit and perform at his unique STYX Project Space, a loft in an old beer factory in Friedrichshain; stylish Esmod fashion freshman Adrian Voß and last but not least Thomas Götz von Aust, organizer of Berlin's legendary Chantal's House of the Shame
, Thursdays at Bassy. He was also the reason that dinner got extended to 6 in the morning and that I wasn't able to blog about it the next day ;-)
Gli Antipasti
The quinoa dish was the result of my Wasabi experimenting the other day, so I just needed to accompany with a veggie component.
The white string beans seemed perfect and I thought that they could go well with the flavour of the Jerusalem Artichokes that just came into season as well, which, when cooked, develop their whole flavour and really remind of the taste of regular artichokes.
Heating oil in a pan, I threw together thinly sliced garlic, a little bit of thinly sliced fresh chilli pepper, cumin seeds, mustard seeds, one root of thinly sliced Jerusalem Artichoke and small chopped carrot greens (you could use parsley or other not too flavourful herbs). After browning this for about 5 minutes, I added the pre-cooked beans, stirred for another five minutes, salted and gave it a dash of freshly ground pepper, and yes yes yes, we liked. I had to hide away the last pieces of beans from the greedy hands of my guests for making the foto next day.
La Pasta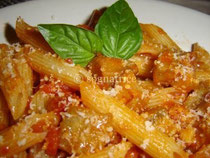 The second course was my favourite pasta dish: Pasta alla Norma. I especially associate many nice memories with this dish. My Sicilian friend Diana tought me how to prepare during my first year in Rome. It was in that cozy appartment right at Piazza Tarvani Arquati in Trastevere I shared with her and husband Massimo, journalist at the left winged newspaper Il Manifesto, where we had numerous lovely dinners together and where I started to discover my passion for food. 
My way of preparing this typical Sicilian plate is pretty much the same as posted on this Epicurious recipe, only that I fry the eggplants first and use this oil to then cook the tomato sauce as descibed also in this recipe on Bleedingespresso.com. Diana also taught me another twist: adding another typical Sicilian ingredient, pine nuts, adds a beautiful nutty taste to the dish that combines well with the eggplants as we know from some Middle Eastern and Northern African Cuisine. In fact Sicily is not that far away from Northern Africa and certainly has taken up some influences.
The important thing of preparing this dish well are the ingredients! I didn't have the thin mid sized Italian Pine Nuts, but only the longer Turkish ones that have a different taste. Also the eggplants should be well ripe and flavourful. Definitely use high quality 100% organic pureed tomatoes from Italian brands. And lastly, a good aged Italian Ricotta Salatais absolutely essential.
La insalata
Following the Italian tradition, the pasta was followed by salad. In fact, this is a strange habit, since a salad usually prepares the stomach for the heavier things that follow afterwards, but it goes extremely well after a heavy pasta like Pasta alla Norma and gives you a feeling of cleaning up your stomach.
Raw Spinach, pear and gorgonzola can be found quite often on menus in Italy. Of course, I needed to add something, which in this case was some grated red beet, walnuts and fresh pomegranate, which complemented the basic ingredients extremely well. Topped with a cherry balsam vinaigrette, this was a healthy, cleansing and tasty finishing course.
Café e Amaro
This delicous meal was followed by some freshly ground Lavazza Espresso to raise the spirits again, because for Amaro (herb liquor, traditionally taken after dinner in Italy), we had to join Thomas again at Chantal's house of the shame, where several 'Amari' another beautiful dinner ended, this time almost with the morning sun rising :-)