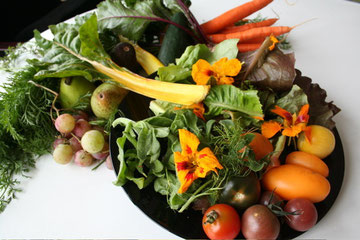 This morning my pre-departure anxiety and excitement about the upcoming course got me up at 6am. Not really my time, but I need to get used to for the early morning shifts at the Tree of Life, so better start now. Having the early morning sun shining into my face, I decided to hop on my bicycle and ride to my so far favourite farmers market in Berlin, which is every Saturday in Friedrichshain at Boxhagener Platz.
And I am glad I did. I was presented with a feast of colours of beautiful fresh produce provided by the local 'Biobauern' (organic farmers). Looking at this potpourri of colours in my shopping basket, it does not look like fall is all that grey. How better to prepare for the rainbow live food cuisine than having my own rainbow salad for lunch: Fresh picked greens and yellow edible flowers, Eiskraut ('ice herb'), purple,red, orange and yellow plum tomatoes and violet truffle potatoes.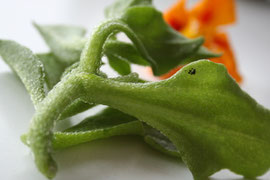 So what is Eiskraut? The texture of this salad or herb is amazing. It looks as if it has been frozen, hence the name that literally translates to ice herb, giving you the impression of tiny little condensed water drops on the surface of the leaves and the stem. And biting in it is likewise an experience that made me think of Ferran Adria's molecular cuisine at world's most famous restaurant el bulli. Biting this herb gives you the sensation of a little waterfall that flows down your tongue into your throat, it's crunchy and literallyl mouthwatering. Only that this is natural, not laboratory created with the use of liquid nitrogen.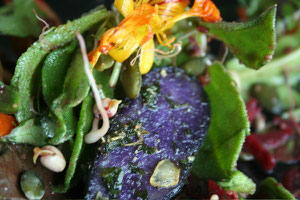 The other discovery of today was the violet truffle potato. Besides the beautiful colour, it's taste is deliciously nutty. Not sure yet of how and what potato to eat raw, I cooked them and then slightly pan roasted them in olive oil, garlic, thinly chopped carrot greens, sea salt and freshly ground pepper.
Oh, and chatting with one of the farmers, I also found out that chard (or spinach beet) can be eaten raw as well. I'll try the yellow one in one of my next salads.
The result of my market shopping was a beautiful rainbow fall salad: Fresh picked leafy greens with edible flowers, Eiskraut, thinly dieced carrots, purple and orange cherry tomatoes, grated red beet, homegrown sprouts (mung beans, clover, red lentils, water cress), roasted truffle potatoes, hemp seeds, toasted pumpkin seeds and avocado.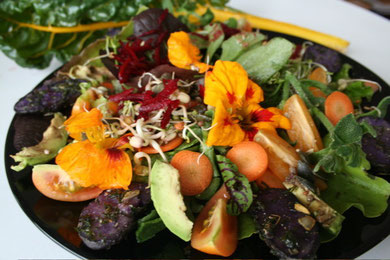 The dressing was simple as the other day, using cherry balsam mustard, balsam vinegar, olive oil, salt, pepper and oregano.I didn't dare to cover any of the colours and flavours.
Using colours and presentation makes up half of any food experience. I ate this salad with so much pleasure, it truly brightened up my cold and tired fall day! Try ot for yourself.