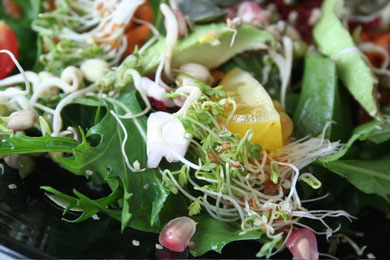 Tuesday night's dinner was fantastic, but definitely heavy on my stomach after starting to prepare for the raw food course. The first effects of change in diet are obviously there. Even more so, I sticked to my routine again of eating fruit for breakfast and a big salad for lunch.
The other day on the market, I found great fresh, organic Dandelion and it's also time for pomegranate again, which goes extremely well in salads with leafy, bitter greens. So yesterdays lunch was dandelion topped with sprouts, yellow cherry tomatoes, avocado, carrots, grated red beet, toasted sesame seeds and pomegranate. After that and a swim, my stomach felt much lighter again.
Preparing for dinner I discovered a jar of wasabi powder in my shelf that I need to use up and got all into the wasabi experimenting mood.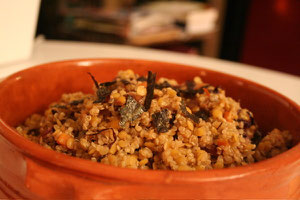 What else was in the shelf? Quinoa, red lentils, radicchio. Quinoa is great preparing for the raw food diet, since it is one of the few recommended grains as Cousins describes in his book The rainbow life food cuisine. The reason is that it is not a stored grain like wheat and many other grains and thus does not develop health threatening funghi and molds that can ultimately lead to cancer. Of course, it should be used sprouted to stay raw, but I haven't yet sprouted quinoa. I am actually trying right now, but so far it does not seem to work...
So I cooked the quinoa together with the lentils and some dried spirulina algae. In a pan I fried some garlic, ginger and chilli pepper. Then added small diced dried mango and fresh carrot and sprinkled over some wasabi power. Finally, I tossed in the thinly sliced radicchio and after a little while mixed everything with the quinoa and lentils. Then I grated some lemon zest, added some lemon juice, shoyu, sea salt, oyster sauce and honey and as well some grated quince, which I found also on the market and is one of my favourite apple fruit due to its bitter and sour flavor. In the end I mixed in toasted almonds and toasted and crushed nori algae. Et voilà! It was a delicious combination of quinoa and lentil earthiness, lemony sourness, added to by the quince and the spicy wasabi that took care of elevating the flavours up your nose.
Still inspired from last night's dinner, I wanted to try wasabi as well in today's lunch salad. So I prepared basically the dressing from the raw spinach salad and added some wasabi to that.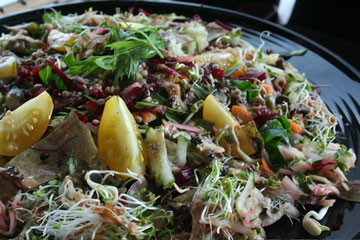 The base was dandelion and radicchio, again topped with yellow cherry tomatoes, grated beet and carrots, sprouts, soaked berries, but this time I even added the carrot greens and the leaf and stalk of the red beet, since I just bought them  fresh from the market. These are actually great raw as well and should not be thrown away!