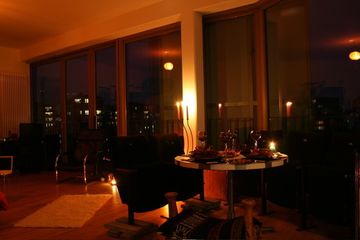 Cooking for yourself is great, but there is nothing better than sharing it with fellow food addicts. Throwing dinner parties in my home is one of my favourite activities and last night's was a great success. The cast: My two lovely neighbors Phillip and Michael from downstairs, who work for the German governement, David from New Zealand who is about to set up his organic fairtrade coffee roasting business Kings&Queens Coffee in Berlin and up and rising Runway fashion designer Cornell Collins, who is soon going to turn Berlin's women into models with his new collection.
The menu of the night:
Fried porc liver and bulls meat paté with figs on ciabatta bread
Indian Spiced Savoy Cabbage
Conchiglie al Ragu di Cinta Senese
Fennel and Grilled Radicchio Salad with Oranges, Pomegranate and Gorgonzola

The sauce for the conchiglie pasta (2nd course), I got at this very beautiful agriturismo Le Macchie Alte in the Maremma area of Tuscany, where I spent an amazing weekend with friends lazing in the Terme di Saturnia and eating the Agriturismo's delicious, homecooked foods prepared by the owners themselves and served to the guests in family style. I changed nothing to the sauce, since the intense flavour of the cinta senese pork gives it that amazing earthy flavor that stayed in my mind from the dinner that weekend.
Since I wasn't too happy about the salad (it was good but it didn't convince me 100%), I will elaborate a bit more on the starters, which were the real winners of last night's dinner:
For the paté, I used a Terrine de Taureau, which I found on a little farm in the Camargue during a beautiful holiday in the South of France with my ex-girlfriend. Taureau is French for bull's meat, which is quite famous in the Camargue. The ingredients of the Terrine are as written on the jar: Pork fat, Pork liver, Bull's meat (20%), red wine, black olives, eggs, flour, salt, pepper, thyme and rosemary. Sounds delicious, however, spreading it cold on a bread like this didn't convince me too much.
I remembered one of my best goose liver patés i ever had, which was at LE FOURN!L in Bonnieux, one of the restaurant highlights in the Petit Lubéron, a beautiful area next to the Provençe in the south of France. The appetizer was a warm, homemade goose liver paté, served in and emptied giant fresh fig, accompanied with a fig sauce made from the flesh of the fig.
Inspired by this truly memorable paté, I fried up 2 cloves of garlic, cut into very small pieces. After about a minute, I added the flesh of two fresh black figs and stirred until it became a creamy homogenous blend. Spoon by spoon, I stirred in the Terrine de Teaurau. Adding water from time to time, I let the whole thing cook down for about 10 minutes at low temperature. And the result was mind-blowing.
For the second part of the appetizer, I bought a fresh, organic savoy cabbage for which season has just started. Here I got a little experimental with the ingredients I used: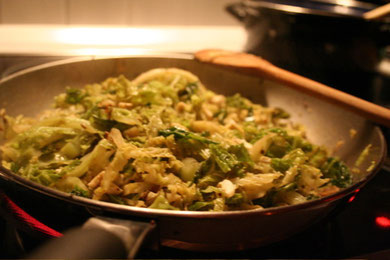 1 head savoy cabbage
2 cloves garlic
1 TSP small cut, dried spirulina algae

fresh red chilli pepper (small piece)
1 heaped tsp cumin seeds
1 tsp coriander seeds
1/2  tsp mustard seeds
Shoyu, Bragg's liquid Aminos, sea salt to taste
1 1/2 TSP crushed cashews
1 TSP large yellow sultanas, cut into small pieces
a dash of French 4-spice blend
a dash of asafoetida (an Indian spice used a lot in Ayurvedic cooking)

freshly ground black pepper (to taste)
1 tsp oyster sauce
I fried the garlic with the chilli in olive oil at medium temperature. After a few seconds I added all the seeds and the sultanas and kept frying until they started to brown. Slowly, I added the chopped cabbage, kept stirring and added a bit of water from time to time to avoid burning. Cooking the cabbage for about 20-25 minutes, adding a bit of water every now and then, I one by one threw in other ingredients that fell into my hands going through my set of spices, until I actually thought 'Ok, it's going to blow up now any second'. But I still dared to take the fork and try a bite and was pleasantly surprised! All of it went incredibly well together and made total sense to my taste buds. Well, mine might be a bit screwed up, but I got raving confirmation from all my guests, so they may still be calibrated fine ;-)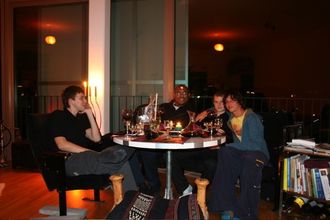 In summary, dinner was great! Great food, great people. So good that I forgot to take any fotos. But here's a shot of another wonderful dinner I had a few weeks ago with my friend and writer Travis Jeppesen and his webdesigner boyfriend Mario, who brought along their friend and performance artist Vaginal Davis, who gave me a beatiful and surprising gift, something I have not receive in a long long time. A handwritten 'Thank You' letter for having her over for dinner! That night, I cooked up some home-made mint and almond pesto with the Sicilian fennel salad, I talked about in one of my recent blog posts.
Ahh, dinners are wonderful, I am already looking forward to my next one tomorrow evening :-)