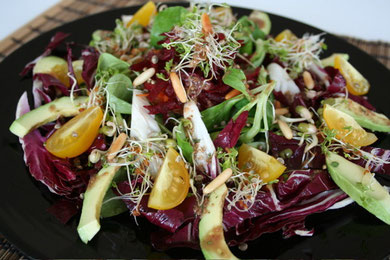 When it comes to buying fresh produce, one of the most important things for me is staying in season, buying fresh and possibly local. Fresh produce looses vitamins and minerals every day by just lying around and thus by being transported over long distances. Plus, there is nothing nicer than going to the farmers market in the mornings, chatting with the local farmers and having the very hand, which actually planted that salad you are about to buy, put it into your shopping bag.
Field salad (Valerianella locusta), one of my favourite green salads is now in season, so I got myself a nice bag full at the 'Kraut & Rüben' organic grocery in Kreuzberg. Check this photo on flickr
for a beautiful shot in front of the store. That day, they had their 30 year anniversary, so every shopper got treated with fresh poppy seed cake, organic coffee and teas. The ladies in the store are lovely and always up for a chat. Just asking about the taste of an apple the other day turned into a 10 minute long apple tasting, during which she cut pretty much every apple to taste and explained to me their little differences. Did that ever happen to you in a Lidl or Aldi?
I've read about the concept of colour combining on several occasions, i.e. eat colourful and you are sure to get all needed vitamins, minerals and other important elements. Following this, I prepared my salad, adding some radicchio (red and bitter), beet (red and sweet) and carrots (orange). And I discovered yellow cherry tomatoes, which have a deliciously sweet and fresh flavour that complements the bitterness of the radicchio and accounts for a beautiful combination of colours.
For proteins and fats, I added my homegrown spouts, avocado, toasted pine nuts and hemp seeds.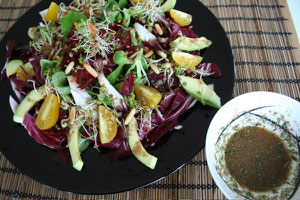 For the dressing I used:
cherry balsam mustard
olive oil
balsam vinegar
oregano
lemon juice
sea salt, black pepper
The cherry mustard creates a nice, subtle sweetness, which blends well with the bitterness of the radicchio.