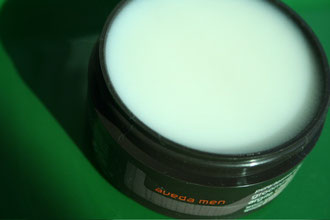 Speaking about rejuvenation in one of my recent blog posts and achieving it by following a raw food diet, might seem a wide fetched concept for some. Achieving 'visual' rejuvenation through cosmetic products, however, is a well accepted concept. But are we all aware of what we put into our faces, or so softly rub into our body pores when we follow the voice of that beautiful looking young woman on TV telling us how well this newly engineered product with more vitamins in it than my fruit salad I had for breakfast this morning will prevent your skin from preliminary aging...
I used to buy my body care products at dicounters, thinking 'the cheaper, the better, and hey, sure it's the same as all the others, just in a different package'. After already gotten on the organic and healthy food trail, I discovered also the market of organic body care products at one of my favourite restaurants, Café Gratitude in San Francisco. There I bought a Pangea Organics Shower Gel, attracted by its amazing smell and discovered a striking difference to all other shower gels I had been using. It probably costs 3-4 times the amount of a regular one, but it is so concentrated of only natural ingredients that you only need a very small amount for a complete shower.
Having had some extended discussions with my friend Silvia from Rome finally convinced me of using only organic, natural body care products that have not been animal tested. Have you ever read the ingredients of your shampoo, body creams and lotions? You might as well sometimes stop at the gas station and hose yourself off with diesel instead.
Silvia is all into making her own body care products, she even washes her hair with in water dissolved chic pea flour! Seems quite out there, but you should see her hair: ultra long, black, shiny, she's could easily be a Schwarzkopf model!
She pointed me out to an Italian web site she is frequenting, called 'sai cosa ti spalmi?' (do you know what you spread on yourself?). One of their ideas is, whatever is edible can't be bad for the skin either.
It is that web site from which I got the recipe for THE one deodorant that ever worked on me. And it's that simple! I used: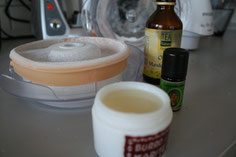 4 heaped table spoons organic shea butter
4 heaped table spoons organic corn starch
4 heaped table spoons organic sodium bicarbonate
about 4 tablespoons of organic almond oil
7-8 drops of lavender organic essential oil

Preparation is easy. Put the starch and the bicarbonate in a blender or food processor and blend until you get a very very fine powder.
Get the shea butter liquid, by putting it in a cup that you put in hot water. slowly add the powder and keep stirring to obtain a homogenous, creamy liquid. Finally, add the almond oil and the essential oil (you can use any other essential oils here, depending on your personal taste, lemongrass might also go great).
Pour the still liquid, warm mixture into a jar and let cool. After about 4-5 hours, it becomes a soft, easily spreadable, smooth cream.
The great thing about this deodorant, it doesn't irritate, because there is no alcohol in it and it even moisturizes thanks to the shea butter and the almond oil. The active ingredients are in fact only the powders. And the other good news: The amount I prepared here, will probably last for about a year!!