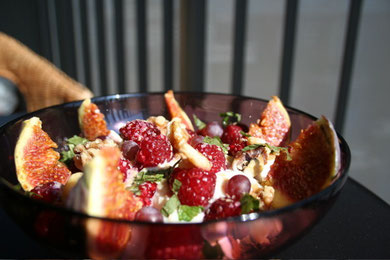 Fresh fruit is a great way to start the day. And in view of preparing for a complete raw food diet also a perfect one.
Last night I had to take some friends out for dinner and brought them to the cute Spanish tapas bar sol y sombra just around the corner from my Berlin appartment at Oranienplatz that serves excellent tapas for unbeatable prices. Unfortunately, this made me go back to some more unhealthy food and I had Grilled Scampi with Ajolli, Plums wrapped in bacon with Banana-curry dip and Steamed Green String Beans with almonds. Excellent, but this morning I felt quite heavy, so a fresh, light fruit salad was just perfect.
The Rainbow Green Life-Food diet, I am preparing for, promotes a low glycemic index diet that avoids any foods that are high in sugars. One of the reasons is to keep the blood sugar level stable in order to avoid sugar peaks that are followed by lows that then create cravings for sweet (high glycemic index) foods. Very obviously, white sugars and flours are to avoid here. However, there's also differences in the type of fruit, if you consider their glycemic index.
All berries are low glycemic fruit and I just got myslef a nice jar of fresh raspberries yesterday. I grated some apple, and sliced some pear and squeezed some fresh lemon on top. All of these are low or medium glycemic. However, I still added some high glycemic fruit: bananas, fresh figs and grapes. I like nuts together with fruit, so I added hazelnuts, almonds and walnuts, a dash of linseed and wheat germ. It's not really needed here, but adding some nutty organic soy yoghurt gave it a nice creamy texture that goes well with the raspberries. Finally, I tossed some fresh mint from my balcony on top.
I do feel first effects of changing my diet back to more raw and vegies. Certainly, there are some little digestion issues that don't always produce the best smell around me, good thing I live by myself ;-) But also, I feel lighter again in total and I don't crave any sugary sweets like I rather would after a more heavy meat based meal or a pizza.