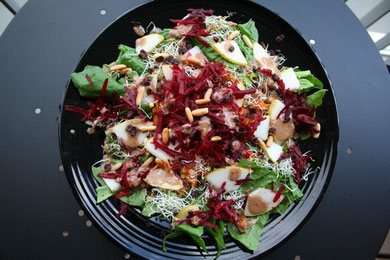 At least one big salad a day that's what I should eat in order to get my body ready for the 3-months raw food preparation course at the Tree of Life Rejuvenation Centre in Patagonia, Arizona. This is to avoid going through detoxification symptoms at the time I am actually starting the course.
I should have gotten into it earlier and already be on almost 100% raw food by now, but I couldn't really manage with a lot of travelling and moving houses recently. However, I am not that worried, since I've always included lots of salad, fresh fruit, sprouts, vegetables, legumes and nuts and seeds in my diet. I am going to start the course on the 12th of October and reading Gabriel Cousens book "Rainbow Green Life-Food Cuisine" gets me really excited. He is the founder of the centre and has done years of research on how a raw food diet influences the health of human beings. The results and evidence that he briefly sums up in this book is quite amazing. It goes from curing diabetes, cancer and many chronical illnesses to rejuvenating effects. He mentions people that healthily grew way over 100 years, living on a mainly raw food based, vegan diet. Hey, if that's the case, I am bought :-)
So today's menu previewed the left over sushi from yesterday, this time with a salad based on fresh raw organic spinach.
Since raw spinach has a little bitterness to it, it's nice to complement it with some sweeter veggies, like carrots and red beet. also added sprouts, pear and berries.
Here the full list of ingredients for the salad:
raw spinach
grated carrots and red beet
a good handful of mixe, fresh sprouts
a third of a juicy, slightly soft pear, sliced thinly
toasted pine nuts
a teaspoon full of dried, soaked 'Berberitzenbeeren' (I have no idea about their English name, I got them off the organic market a few weeks ago at Prenzlauer Berg, but they seem similar to Goij berries)
For the dressing I used a nut paste that I prepared some time ago, blending together toasted almonds and hazelnuts with some peanut oil, salt and agave sirup. I wanted to use it as a spread for bread, but wasn't so happy with it.
In a mortar, I first crushed half a clove of garlic, an inch of fresh ginger and a small piece of a fresh hot red chilli pepper together with some fresh squeezed lemon juice. Then added about two table spoons of the nutpaste, some more oil, water and stirred until I got a nice creamy, liquid consistency. Finally, I seasoned with some Bragg's Amino Liquid, a dash of shoyu, a little sea salt and a pinch of 4-Spices (mix of ginger,pepper,nutmeg and clover).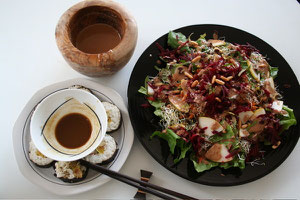 The result was very statisfying. The flavours blended so well, I was really happy with my experiment. The nutty earthy taste of the dressing went so well with the carrot-beet mix over the spinach bitters and was well complemented by the juicy pears. The berries added that little sour aftertaste that went great with the Asian spice base of the dressing.
I am feeling already younger :-)
Time to go for a little afternoon run by the canal to make use of all the energy.