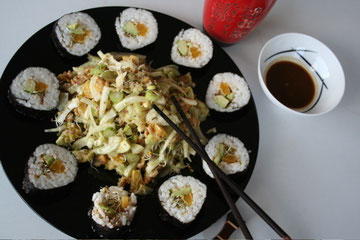 'Brrrrr, freeeeezing out there'! But looking at the TV tower reigning over the skies of the city from my favourite view point at the Warschauer Strasse metro stop when I got in from the airport last night made up for it. I was happy to be back in Berlin, happy about two wonderful weeks in Rome having spent a great time with all my good friends over countless coffees, delicious long dinners and fun parties. 
After indulging in so much Pizza, Pasta, Gelato and Tiramisu, it's time for a change. I am craving some healthy, home-made food. Especially, I have to prepare my body for a course in raw food preparation, which will start in about 3 weeks from now. I will talk about this in more detail in the next days.In short, I need to work my way towards eating mainly raw, uncooked vegetables and fruit, avoiding coffee and excluding any kind of animal products from my diet.
So I started the day with an awakening banana - berry Smoothie, in which I added soy milk, some power greens powder, green tea powder, fresh ginger, almonds, hazelnuts, linseeds and sunflower seeds.
After that I went to the 'Bioladen' (that's how they call the little organic groceries here) to get some nice fresh produce for lunch. I found some beautiful, crunchy fennel, and still inspired by Italy I decided to take a twist on a traditional Sicilian dish: fennel and orange salad. I learned this dish from my Sicilian ex-flatmate Diana, whom I shared an appartment with in Trastevere, during my first year in Rome, six years ago. She used to prepare it with fennel, oranges, walnuts and anchovies.
I took the basic recipe, but instead of the fish or olives, I added a mix of fresh sprouts to give it more life energy, some avocado and added some hemp seeds that gave it a bit of a crunchy touch.
In order to stay in line with the salad, I filled the Nori Rolls with avocado, sprouts, oranges and toasted sesame seeds.
For the sushi dipping sauce, I took some wasabi powder, organic shoyu soy sauce, a dash of oyster sauce and added some fig flower sirup, which gave it a really nice and subtle sweet note. I used this also as a base for the salad dressing, added olive oil, some sea salt and a good dash of freshly ground black pepper.
Eh voilà, my healthy lunch was served, and I enjoyed it with a nice, fresh afternoon Berlin breeze on my balcony of my new, beautiful, little Berlin loft.