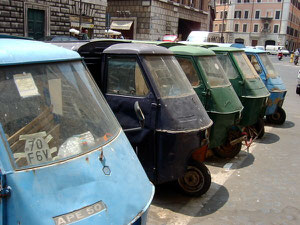 What better time to start writing the first article of my blog than a rainy afternoon in the city that brought about some significant changes in my life and career: ROMA. After waking up this morning to constantly horning cars passing below my window on the Lungotevere (ahh, how I missed that ;-) , I did some Yoga exercises and went down to the corner bar to start the day with a nice cappucino sciumoso (that's what you tell them, when you want more of the creamy milk foam instead of steamed milk). Zipping the warm cappucino foam, I looked at the other Italians in the bar , who were loudly complaining about the recent change in weather (of course, no sun in Rome is dramatic ;-).
I've always loved the way Italians accompany their talking with seemingly uncontrolled, wild gesticulations, but today I noticed for the first time that there must actually be some deeper sense to it. One of them, a deaf-mute, heavily gesticulating as all the others, seemed to be just as well understood as everybody else and was well involved into the conversation. And, no, they did not speak sign language ;-) Now we know, gesticulating has deep cultural roots in Italy and is actually part of the language.
After this nice morning bar scene, I got ready to meet a friend at Piazza del Popolo. It's a nice stroll crossing the bridge to the centro storico, wandering over Piazza Navona and through the narrow little cobble stoned alleys, breathing in all the different scents from restaurants preparing for lunch, wonderful cheese shops, like Volpetti on Via della Scrofa, and coffee, coffee on every corner. So I stop for another café macchiato at the Café Ripetta (on Via Ripetta), where they draw beautiful patterns of liquid chocolate on top of the creamy foam of your cappuccino or any of the numerous ways you can order your coffee with milk in Italy.
My culinary tour then continues into the less touristy area of San Lorenzo, where I used to live until this June in my beautiful historic appartment inside the ancient Roman Walls. I met a friend for lunch at a very nice macrobiotic bistro and shop: Un Punto Macrobiotico in Via dei Volsci. I like to eat there, since the guys there really care about quality. Everything is 100% organic and the head of the association is constantly checking on their suppliers to assure the best quality of their vegetables, grains and fruit. We indulged in Cous-Cous Gnocchi with fresh basil-almond pesto, vegetarian and fish arancini (the original sicilian ones have meat and cheese in them), and a fresh fillet of sgombro fish, and finished with a nice crostata di susine (basically a pie crust with marmelade on top). The food is nothing exceptional, but it's a great place to have a good, healthy, quick lunch and also a great take away, if you don't feel like preparing dinner.
Since the rain continued, I decided to go straight back to Trastevere to dry off and warm up. But before arriving, I needed to stop in one of my favourite places in Trastevere 'cioccolata e vino'
in Vicolo del Cinque for ... of course another coffee :-) Here you can get one of the nicest hot chocolates in Rome, the 'real' one from Turino, made from scratch with pure dark chocolate and no additives or binding agents. And their coffee gets served with a little coffee bean made from dark chocolate on the bottom of each cup, delicious. And if you feel more in drinking mood, you can have one of their various rhums or other special liquors, served in a cup of chocolate, topped with whipped cream and cocoa powder. Not really the most healthy thing after a macrobiotic meal, but yummmmy.
And speaking about chocolate, last night, I had one of the best gelatos ever. Passing by Via Arenula on my way home, I discover a little gelateria (Gelateria Corona, Largo Arenula 27), which had a sign out that I've last seen at a gelateria on Piazza Venezia last year. It said: Chocolate Week! Looking up from the sign, I recognized the owner inside, who was the same person from the other gelateria. I was the happiest person and even though I was overfilled from a delicious meal at my friends house in Monti, I could not resist and entered. About 15 types of chocolate flavours, amongst them dark chocolate with double malt beer, dark chocolate with tobacco, dark chocolate with marsala wine, and an incredible white chocolate with rose flavour. I chose three and drifted back home on a cloud. A shame, he only does it once a year in September for one week.
<< New Text >>